Hortifresh Fruits and vegetables that seek to promote sustainable and internationally competitive fruits and vegetable sectors to contribute to economic growth, food and nutrition security in Ghana and Ivory Coast have opened a three-day Fruits and Vegetable Fair in Accra.
The three-day annual fair held at the Efua Sunderland Children's Part in Accra seeks to create a platform for trade promotion within the Horticulture sector in Ghana.
The event which is in a collaboration with Chambers of Agribusiness is under the theme "Enhancing Horticulture Trade Patterns in Covid-19 Era".
About 80 horticulture value chain actors such as input dealers, processors, farmers, producers, service providers, agrochemical dealers, seeds producers, buyers and government agencies join this year's event.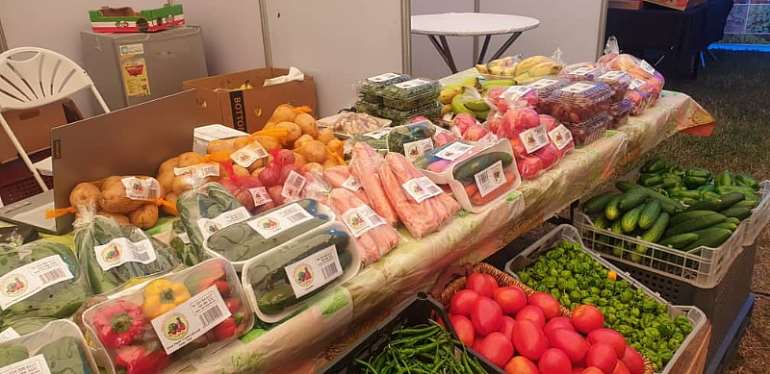 Speaking at the launch, Director, Crop Services at the Ministry of Food and Agriculture, Mr. Seth Osei Akoto said the fruits and vegetable sub-sector has been a game-changer in the economies of countries that have gotten it right.
According to him, the government of Ghana through the Ministry of Food and Agriculture is working assiduously to further improve the fruits and vegetable sector which provide export income and nutritious food for the country.
He added that the ministry seeks to partner-related stakeholders to support innovations in fruit and vegetable to put in place the incentive necessary to stimulate increased uptake of productivity-enhancing agriculture technologies and to create an equitable market environment that will encourage investment.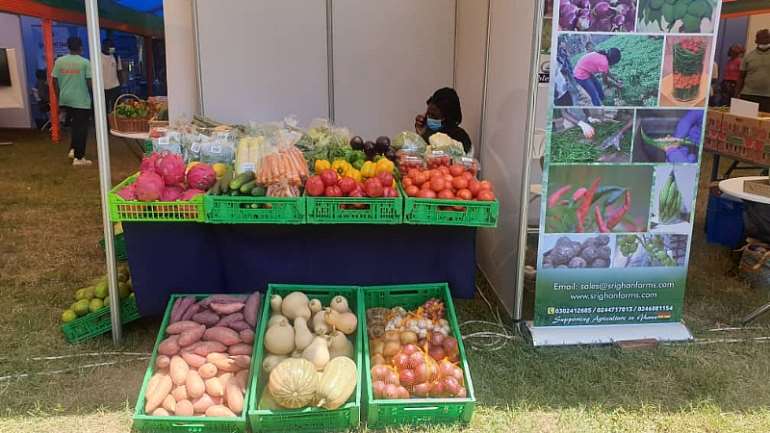 In her address, Katja Lasseur, Deputy Head of Mission Embassy of the Kingdom of the Netherlands, Accra, stated that the Fruit and Vegetable Fair serves as a perfect platform for creating linkages and sharing innovative ideas for the sector.
Adding that Ghana has seen an appreciable growth rate with potential for even further growth through its horticulture sector over the years.
"The Netherlands makes an important contribution to this growth. Apart from opportunities a very promising part of the growth. Export is the high-end segment of the domestic vegetable market, its overall turnover has doubled in only three years from $5 million in 2014 to more than $11 million in 2017.
"….A powerful driver of this growth and transformation action is the Dutch-funded program, Hortifresh. It employs a successful public-private partnership strategy to develop competitive and sustainable fruit and vegetable sector in Ghana," she said.
She further observed that despite these encouraging achievements, Ghana still imports a significant amount of vegetables that could also be produced locally.
As part of measures to address this production-consumption gap, Katja Lasseur suggested that Ghana must increase productivity, storage, value addition and foster growth and competitiveness of the sector to enable it serve the domestic market as well as export market.
On her part, Programs Manager at HortiFresh West Africa, Shelia Assibey-Yeboah said this year's theme was very important owing to the current economic and health challenges affecting the world globally.
"Trade promotion is one of Hortifresh's core activities, as such the Fruit and Vegetable Fair has become an annual event to provide a platform for the horticulture sector actors to exhibit their products and services," she said.
She seized the opportunity to announce this year's collaboration with the Chamber of Agribusiness.
This collaboration with the Chamber of Agribusiness, Madam Shelia said will drive the continuity of the annual program after the closure of the Hortifresh Program with the kingdom of Netherlands.
She then called on the general public for support by passing through the exhibition centre to buy fresh fruit and vegetable from the exhibitors.
Source: modern Ghana